Iraqi Excavations at Ashur 2001
brief report
The excavations in Ashur carried out by the State Board of Antiquity and Heritage were continued in the year 2001 in the operation areas in the centre of the city and at the eastern slope of the mound with the modern cemetery.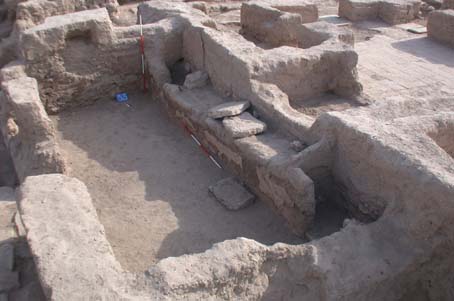 In the city area new late Assyrians private houses were investigated. One of them is similar to the big "northeastern house" published in the report 1999-2000. Its plan shows a building consisting of 18 – 20 rooms with a forecourt and the big reception room giving access to the dwellings which concentrate around two inner courtyards. The house is surrounded by smaller houses which are still only partially excavated. At least one building stood on the massive mud brick terrace about one meter higher than the another units but it is nearly completely destroyed. Between the private houses existed a small pottery workshop with two kilns.
The excavation of the Parthian grave building with four funerary chambers, which was found last year, was completed and the second Parthian tomb with one chamber was excavated to the northwest.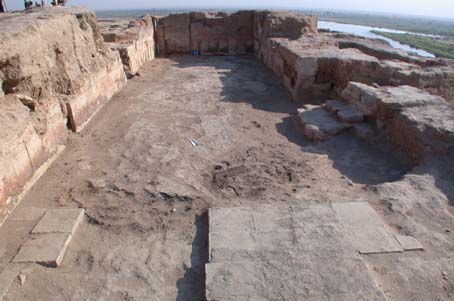 The groups of rooms in the operation on the mound to the south of the temple of Ashur and the temple tower, which were investigated for the first time some years ago, turned out to be a part of a Neo Assyrian palace – the "Eastern Palace" – which was probably founded in the 9th century B.C. (bricks with a stamp of Shalmaneser III). The housekeeping and dwelling parts of the palace lay originally on the north slope while the representative rooms were located on a higher level in the eastern and central area of the "cemetery hill". Under the floors of the rooms and courtyards an elaborated drainage system was found. In the biggest of the rooms two parallel stone rails were installed, which are the characteristic feature of the state apartments of the Late Assyrian palaces. Another of the big halls was converted into a granary which had to have happened during the siege of Ashur in 614 B.C. when the palace was captured and burned down.
The director of the excavation at Assur was dr Rijad Douri. He and the members of his team, Abd Mohammad Jero, Farhan Ahmad Azzawi and Qais Hussain Rashid, thank the Chairman of the State Board of Antiquities and Heritage, Dr Jaber Khalil Ibrahim, for his support.